In 1992, Mazda has entered European luxury car market with their in-house Xedos brand. The same car has been presented in Japan as Eunos 500 on Tokyo Motor Show in 1991. The Xedos 6 is a beautifully designed vehicle with smooth shapes and elegant lines. I seriously thought about getting a used one in 2005, but i decided against it as the price was too high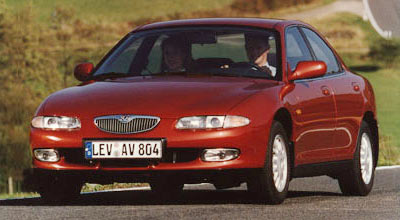 The real car has not been a huge success and production has stopped after a bit more than 70.000 pieces sold worldwide. Unfortunately, this car als has not been covered very well by toy and model manufacturers and except for a 1:43 NEO resin model and a 1:43 scale resin model kit, which both tend to be on the pricier side, there are no other models on the market, which hurts, especially because i am into a different scale than 1:43. The Idea of making a 1:60-ish model of Xedos 6 is an old one, but so far it was always on hold for tha lack of either time, motivation, good donor model, or everything together. A Donor model has been found last summer on a children´s flea market. Actually, this Hot Wheels Subaru Impreza has been meant to be re-built into a car i test drove for a weekend, but the shapes of its side windows made me think again.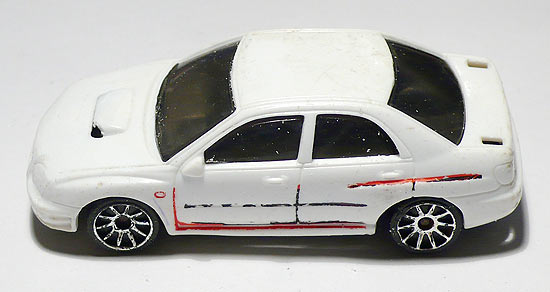 The lines reminded me of the Xedos 6 and so that day the idea woke again. It was surely of great help that i had seen three Xedos 6 cars in traffic that day, one of which was red, as the car i once wanted to buy. I took out my trusty tools and started the adventure. The car has been derilled apart, just to discover a nicely detailed rally interior with rollbars, bucket seats and everything a rally car needs. Not what a road car needs though. So, the interior had to go to my spare parts box. I began sanding and shaping the plastic body of the Impreza. The material is very grateful, becauzse it is easy to shape and sand without nasty residuesm but at the same time it is fairly elastic if things need to be bent by force.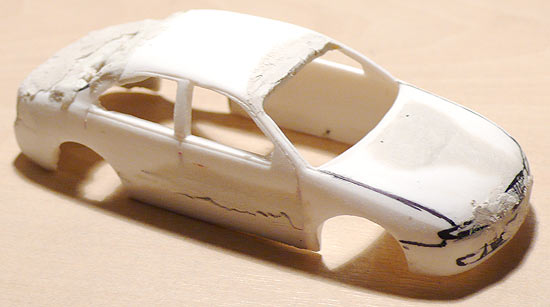 The first step was trying to shape a front of the Xedos from what Impreza´s body would offer. It turned out to be a good project. I always drew characteristic lines of Xedos 6 to try to orientate. The front was shaped, but the rear needed more care and putty to make it look like Xedos. Soon after some filing and sanding, the shapes began to show.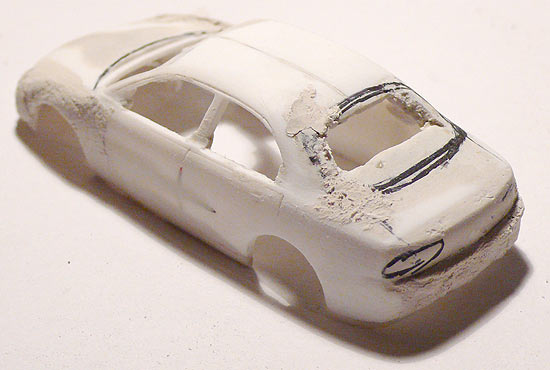 I was happy with the overall impression so far and the search for wheels started. I found them on a Hongwell 1:64 generic car which i found previously at one of the discount stores. The wheels were almost identical to theose of the real car´s stock rims. I like stock looking stuff. The wheels looked very promising.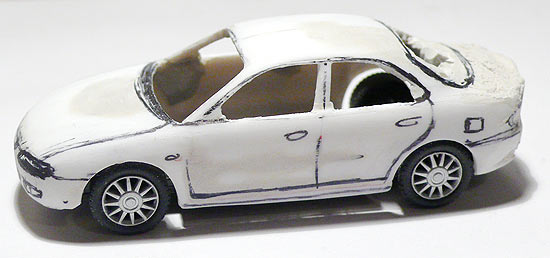 The rear shape has been finished and i started to make window spaces.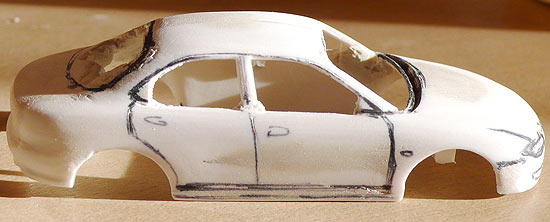 These have soon after been filled wit window units, which i cut from a spice package.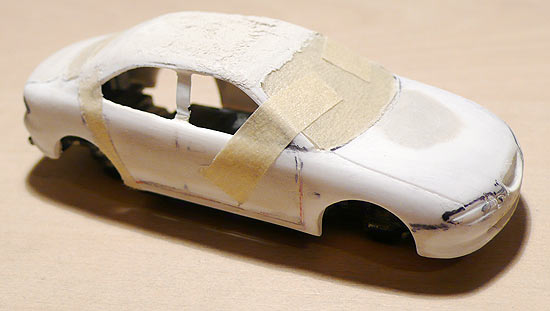 Windows are always a challenge and i am used to throw away one or two unity before i succeed in making the shape to suit my expectations. I have also painted the frames to getb the feeling for what i have cut.
The interior came from my beater box. long time ago, I got a beaten red Motor Max Toyota Camry from a friend, but soon after i found a mint one, so this one was no longer needed, but i also didn't want to trade or sell it. It was a good decision from today´s point of view, because the interior nad its brownish grey color proved to be perfect for the xedos. The real Xedos interior had a very similar color, but seats were beige colored. I painted them to resemble the real ones.
The car has been put together for the first time and i adjusted the ride height. this time, i went for a construction without suspension. Then i began drinlling out the light and grille holes.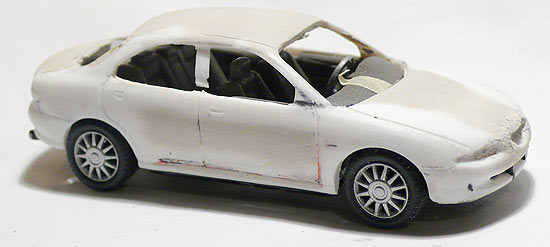 After this i also made air intakes and fog light on the front bumper. The real car has nice side view mirrors which i tried to replicate as good as possible. i primered the model once to see how the shapes looked like and if there was any more need for further sanding.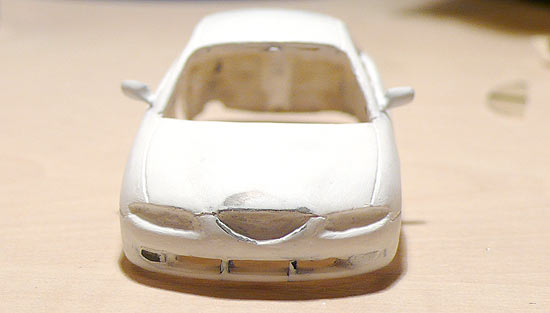 The grille has been cut our from a Matchbox Kenworth truck. It had to come from somewhere, so why not from a spare model i have in my boxes?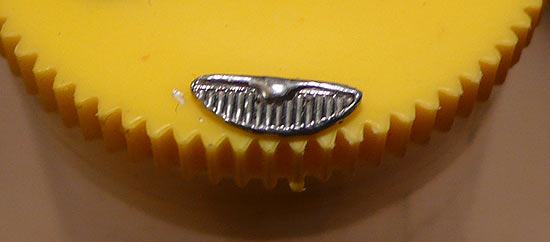 Everything has been prepared and fitted, so i went on with painting. i bought a color i knew wasn´t the perfect match for the color of the real car, but in order to be able to use it on multiple projects, i went for something universal. it turend out to be a good metallic spray paint with extremely tiny metalflakes. It needed three coats, but the results are very satisfying. Finally went on adding the details. The most difficult thing was creating chromed side window frames, which i made using a chrome foil.
After it, I painted the other details and positioned the windows. The base has been painted flat black and i drilled a hole in the original Hot Wheels exhaust to make it look more realistic. And finally, when i woke up from my customizing trance, I realized the cr was ready. Here are some impressions of the finished model: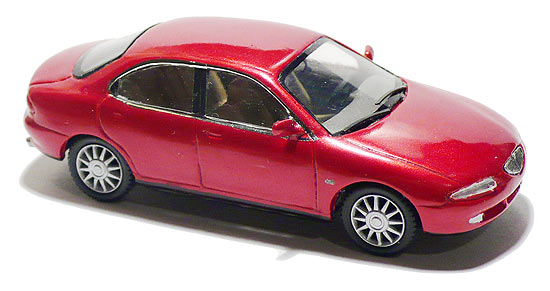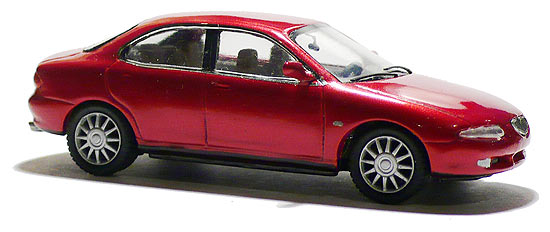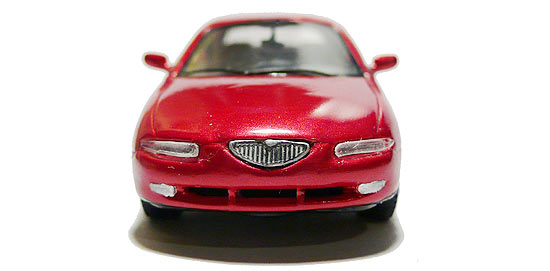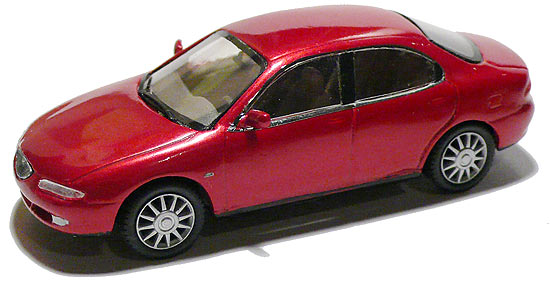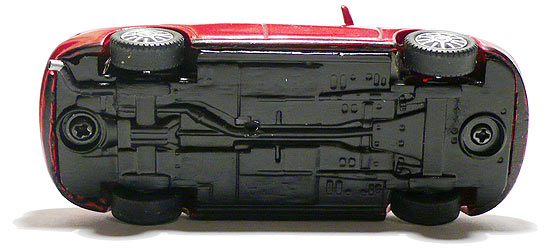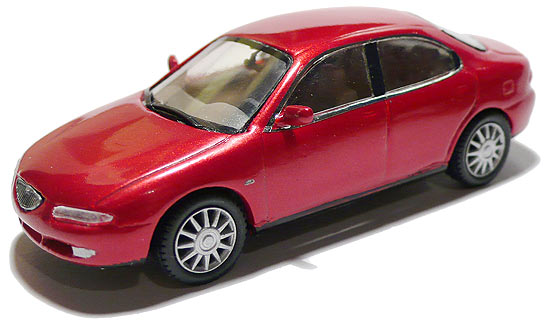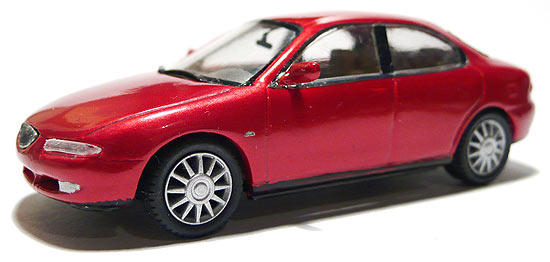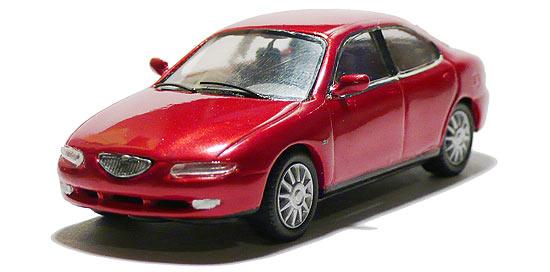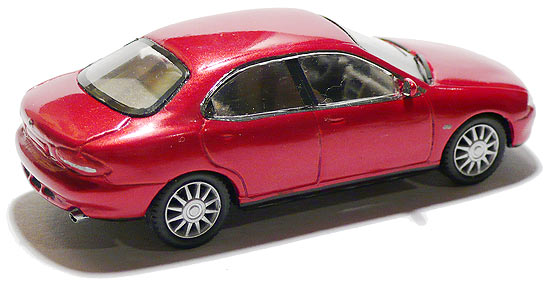 Some daylight impressions: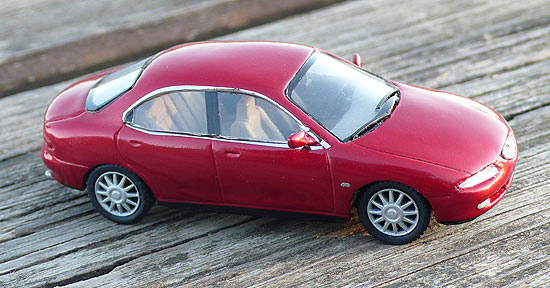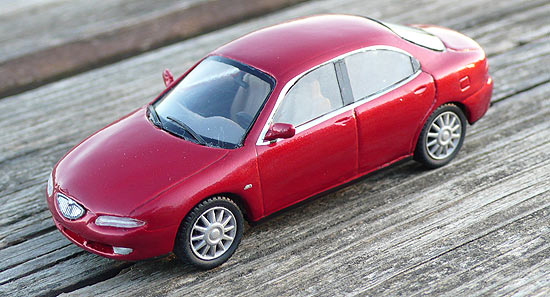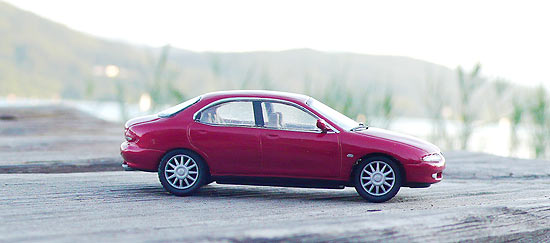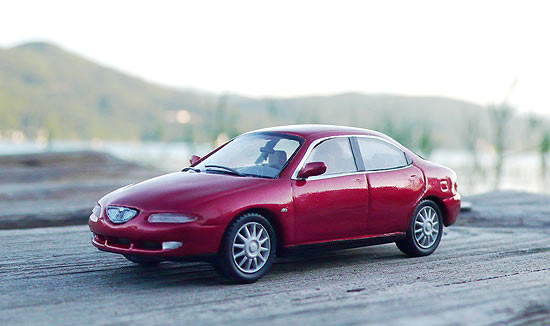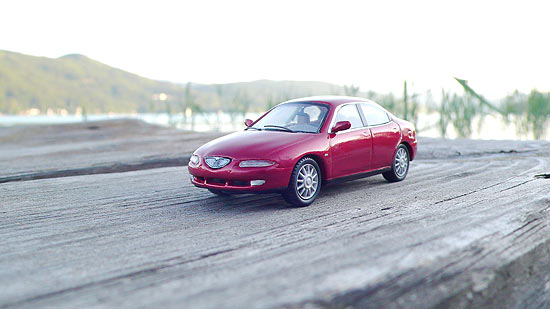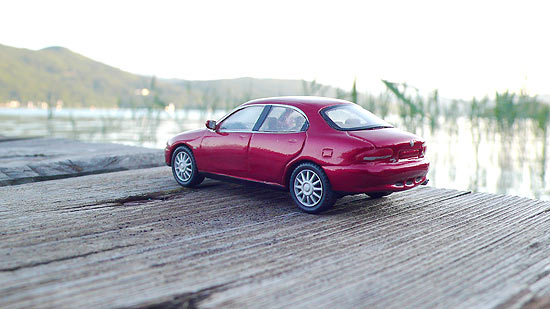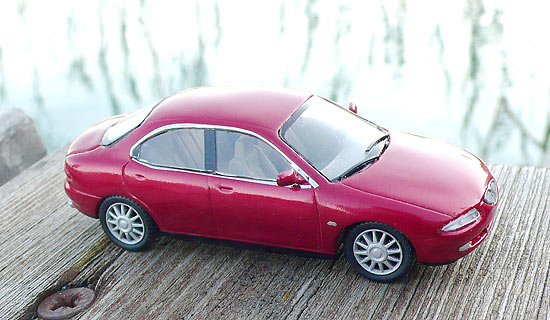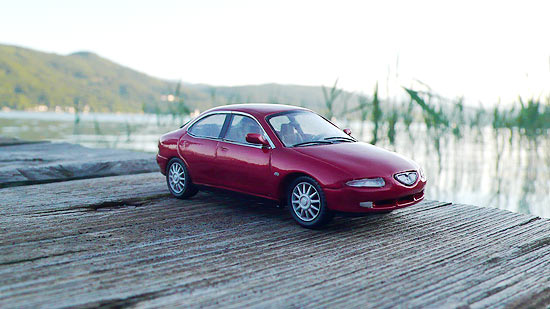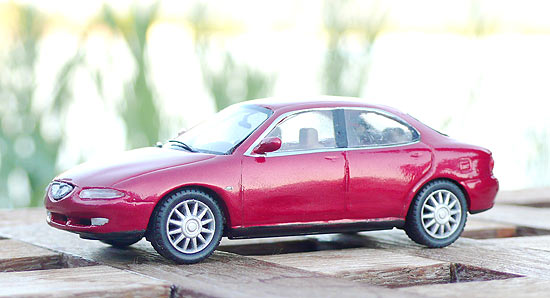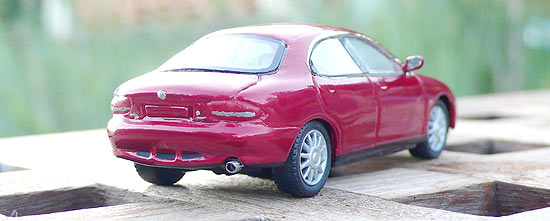 I decided to create a display box for it. An empty Minichamps64 box was just right: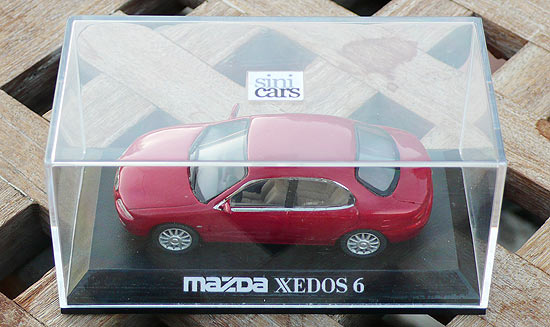 As i have made a custom model of the Mazda MX-6 the year before, i decided to make a few shots of that early 90-s Mazda couple.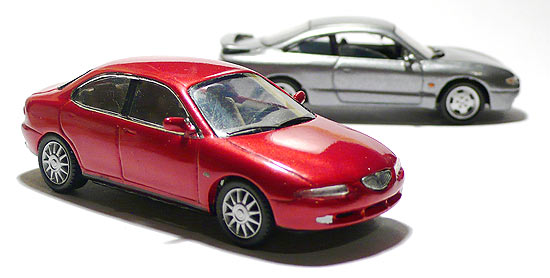 I hope you enjoyed this story just as much as i enjoyed making the model and writing about it.
Pictures © by
Sinicars